X-Vision Oak Staircase
New X-Vision Oak Staircase launched at the Homebuilding and Renovating Show at the NEC from March 2012.
Since then the X-Vision has been under continuous development and is a Class leader in the market of Contemporary Oak staircases in quality.
Visit our staircase showroom to help you in finding your new staircase.
The New X-Vision staircase is the ultimate on contemporary oak staircases - Chunky oak stair treads floating on a central oak carriage with glass balustrades.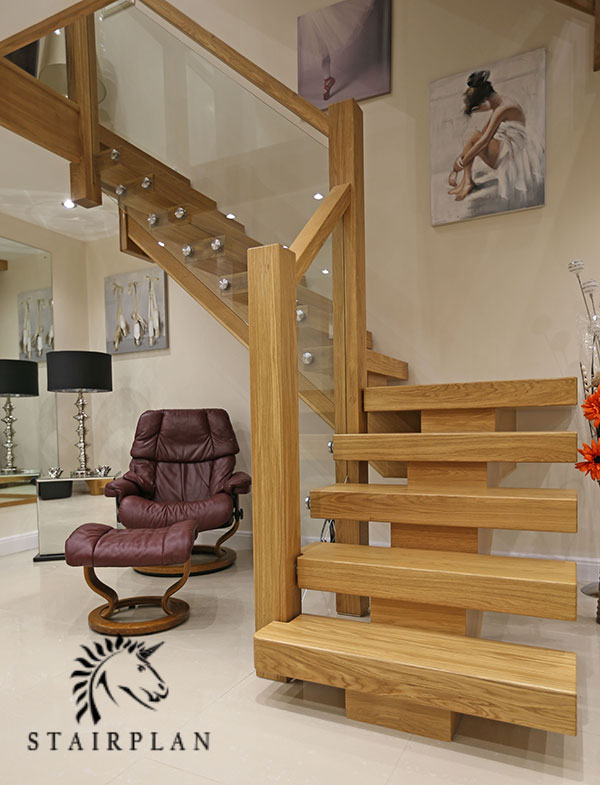 Stairplan offer the complete service on the X-Vision staircase range you can simply have us manufacture the staircase or we can also offer our other services.
Optional Services
Site Measure
Staircase Design
Manufacture
Staircase installation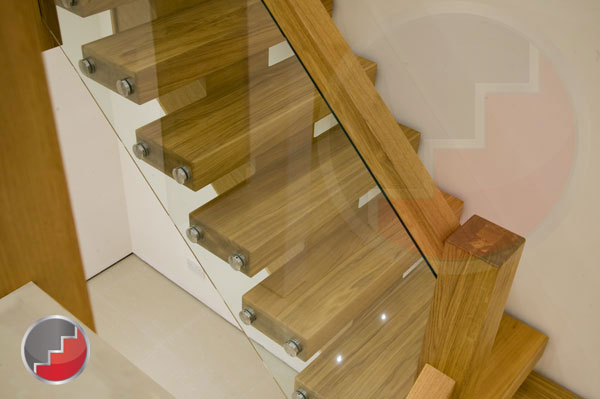 The X-Vision staircase is a staircase that makes a statement , in many homes the staircase is relied upon to make the right first impression and if you are looking for a quality contemporary oak staircase then the X-Vision staircase is one you need to consider.
Staircases in Wood offer warmth and beauty in the home.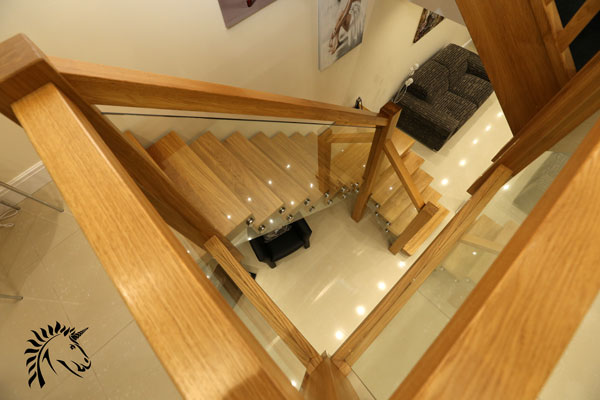 We have Oak and Black Walnut X-Vision Staircases available to see in our research and development area in Telford call us to book an appointment.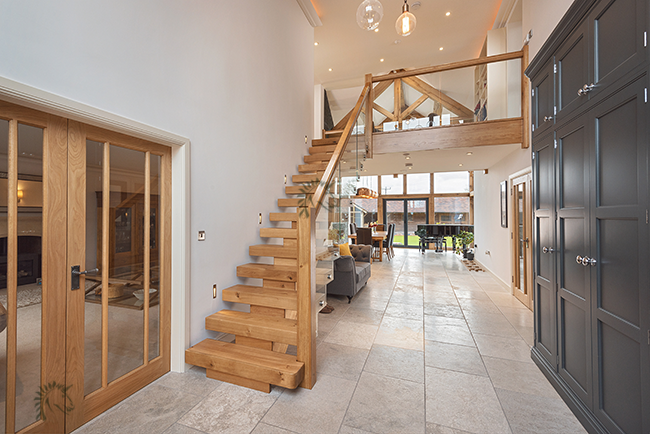 The X-Vision staircase above is in Character Oak , the staircase also has the Stepped Glass Balustrade option.
See More on this Straight Oak X-Vision Staircase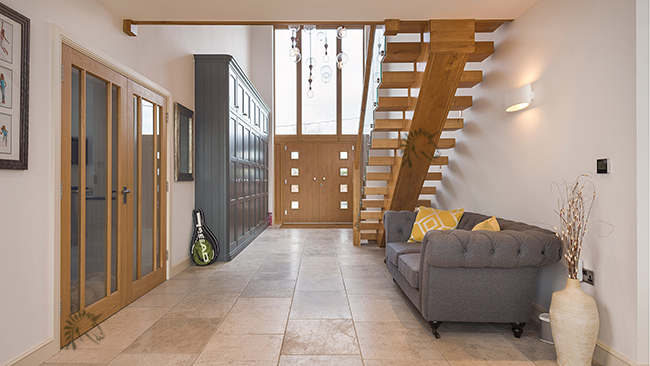 The X-Vision staircase offers beauty from the underside as well as from the front.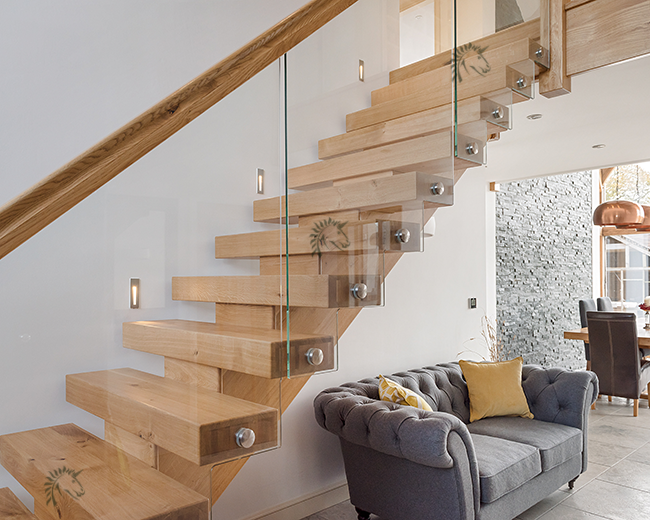 Above you can see the stepped glass detail - with the Character Oak option natural imperfections like the knots are left in the timber selection process.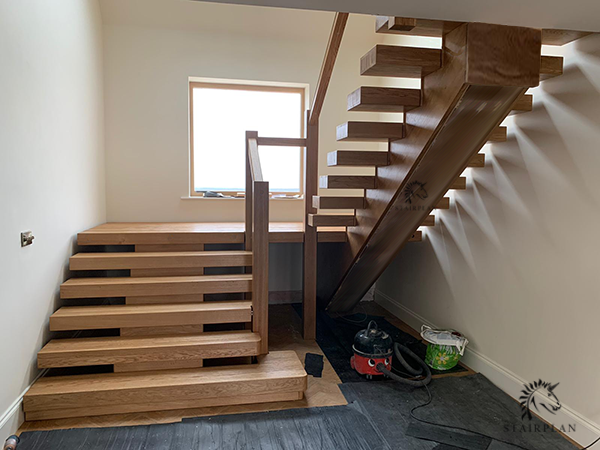 The X-Vision staircase above is a Half Landing Layout, extra wide width over the standard width of up to 1000mm,
Select oak with bottom feature entry step.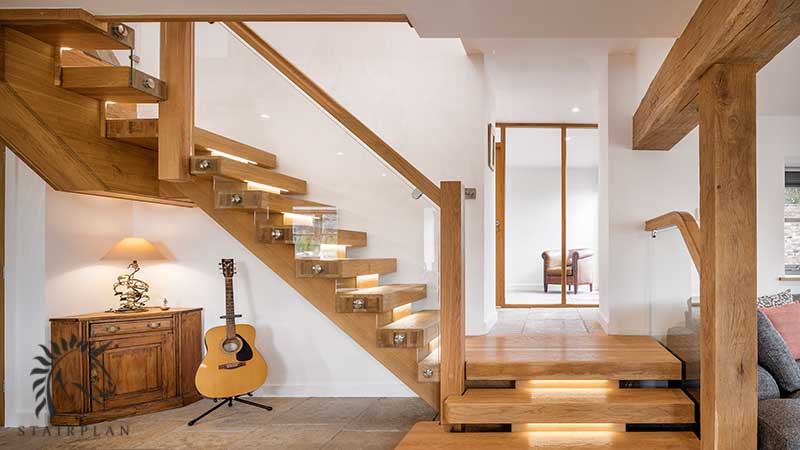 Oak X-Vision Staircase with a double quarter landing layout - Take a look at more on this staircase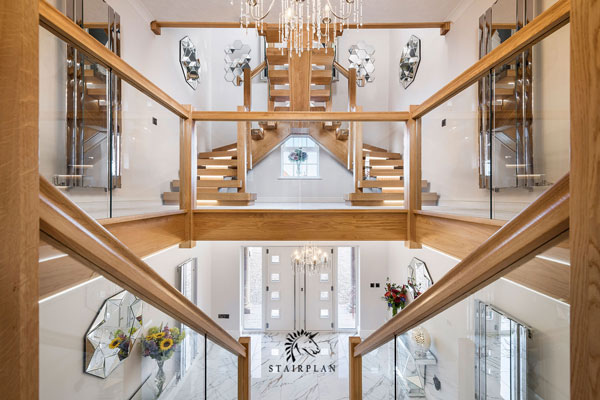 More on these Central Feature Oak X-Vision Staircases
X-Vision Staircase with No Newel Posts and Handrail (Frameless Glass)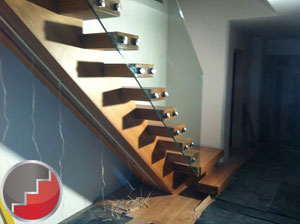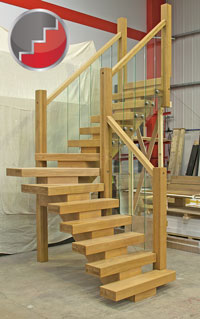 Above the X-Vision in a Winder Stair Layout
See a Curved Oak X-Vision Staircase
Below you can see a number of X-Vision staircases in production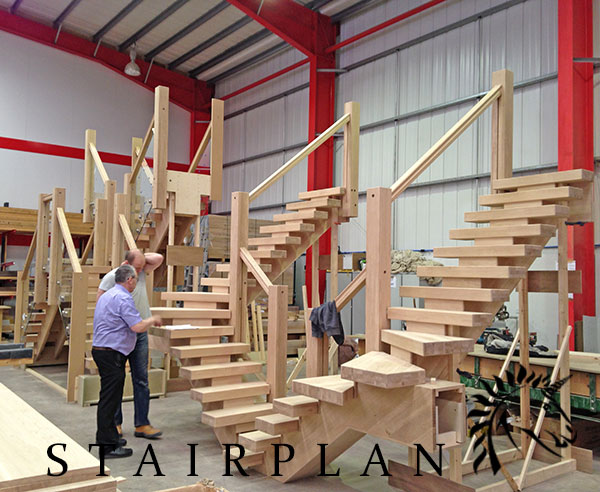 Phone 01952 608853 - Online Enquiry Form
Stairplan produce a full range of quality wooden staircases.
New Option With the Glass Set into the treads.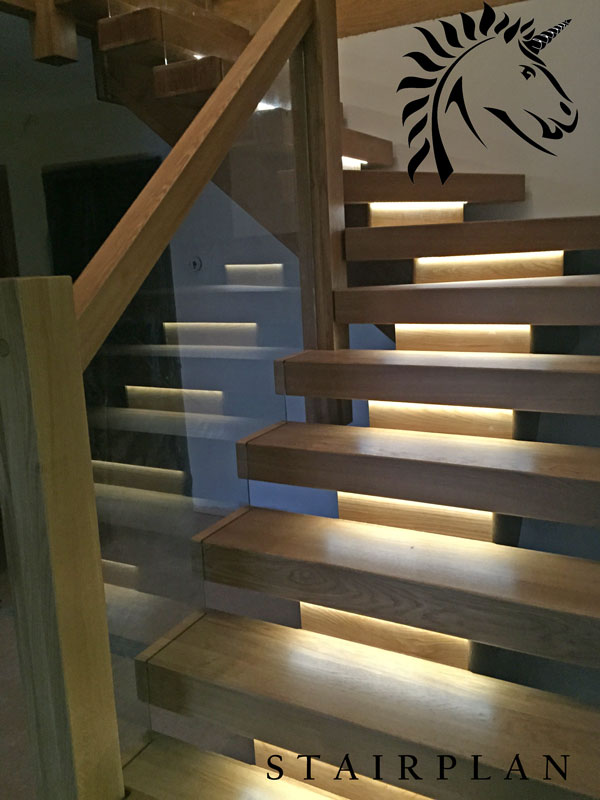 One of the latest options we offer on our X-Vision staircases is a change in the glass detail - here you can see the glass is set into the tread rather than than our standard detail where the glass sits outside the tread. Here you can also see the optional LED lights.
The X-Vision staircase is a feature staircase in all its respects, the bold design makes this staircase design a feature in any hallway.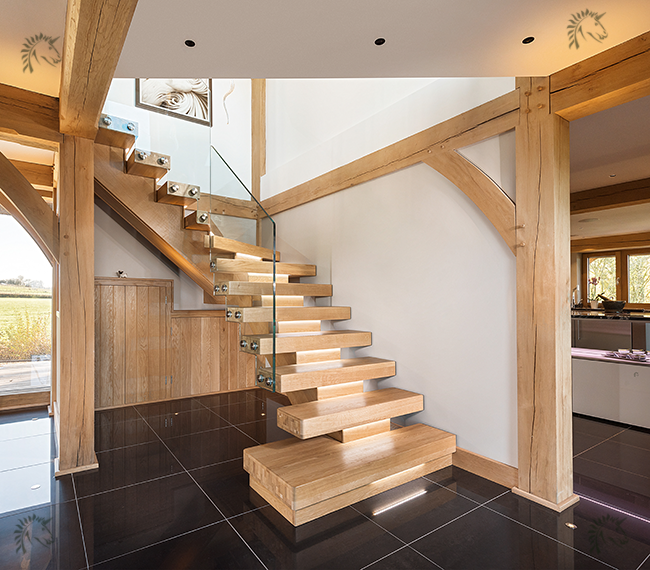 Above you can see the X-Vision staircase in Oak with the frameless glass balustrade option,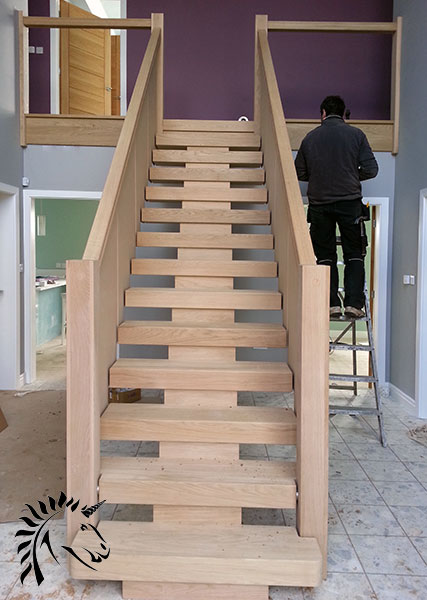 Above - Oak Straight X-Vision staircase with balustrades to both sides, standard bullnose entry step detail.
Below - Look at the Black Walnut X-Vision staircase page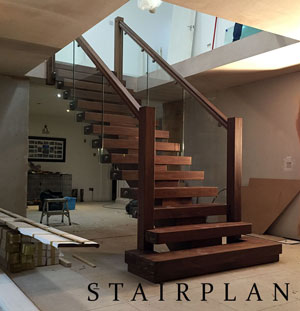 Houston Oak Staircase with Glass Balustrade