Oak Townsend Staircase
On this page you can see some images of the original Townsend staircase we produced, the Townsend is a higher specification than a typical/normal openplan staircase in Oak, To appreciate the difference I would advise seeing these in the flesh in our Staircase Showroom.

These are a number of features that have been enhanced on this staircase. New Townsend Staircase
See the Very Latest Townsend Staircase Launched at Grand Designs Live now in the Showroom.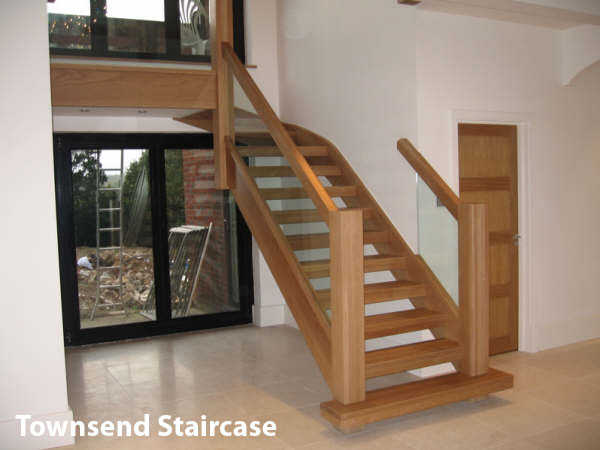 Specification.
Timber - American White Oak
Strings - 40mm
Treads - 40mm
Riser downstands - 40mm
Handrail - 63 x 100mm
Newel Posts - 150 x 150mm
Toughened Glass Balustrade Panels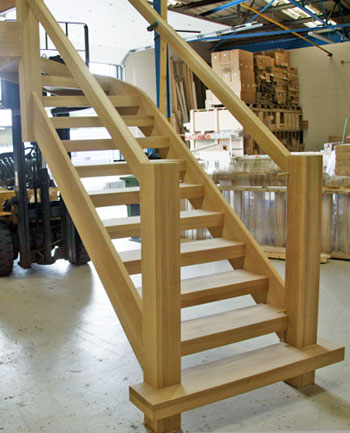 Townsend Staircase in the workshop -
On this staircase the riser downstands have been set flush to the front edge of the treads to give the treads the appearance of being around 90mm thick (This vairies depending on the rise of the staircase). Also all the edge radiuses used are far smaller than those used on our standard Openplan staircases this helps with keeping the contemporary feel the staircase is designed to achive. More on the Townsend
The bottom step is a Square off Double sided curtail step.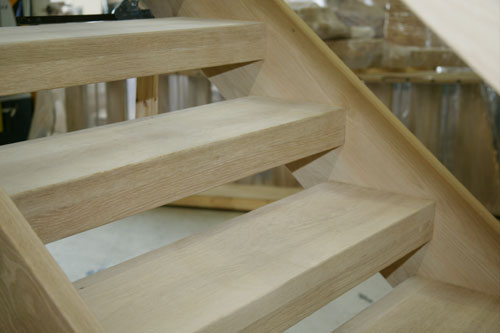 Original Townsend Tread detail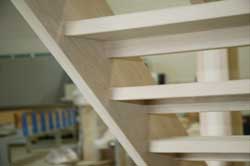 The Tread was 40mm thick with a flush downstand at the front of the tread - this gave the effect of a thick stair tread from the front of the staircase. The Townsend Staircase has now evolved....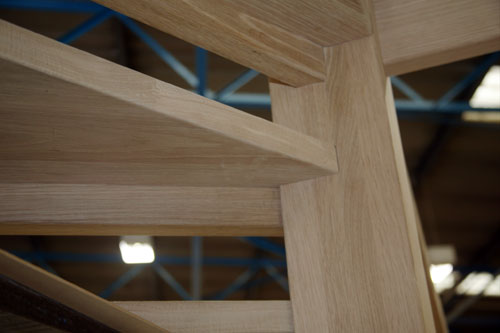 This picture shows you under the winder section of the staircase.
We assemble all our staircases in the workshop to ensure the quality of our staircases and this saves time for the fitters on site.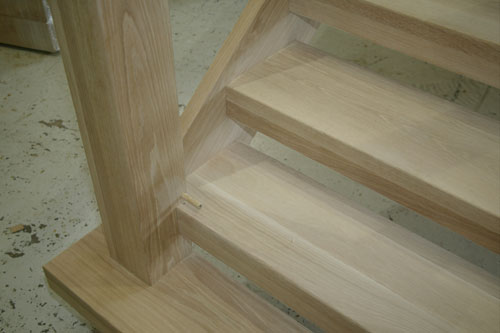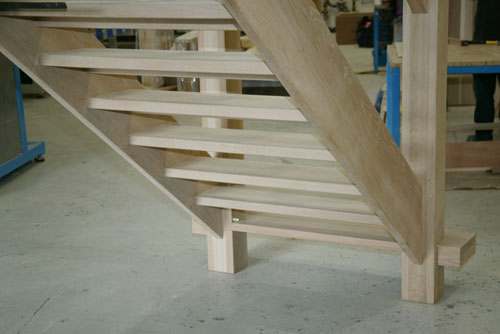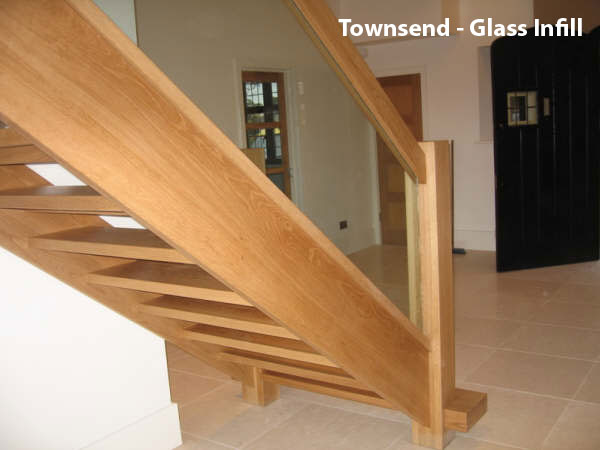 Above - Our original design detail on the Townsend Stair Treads
Below - The Tread detail on the current generation of Townsend Staircases produced by Stairplan in the UK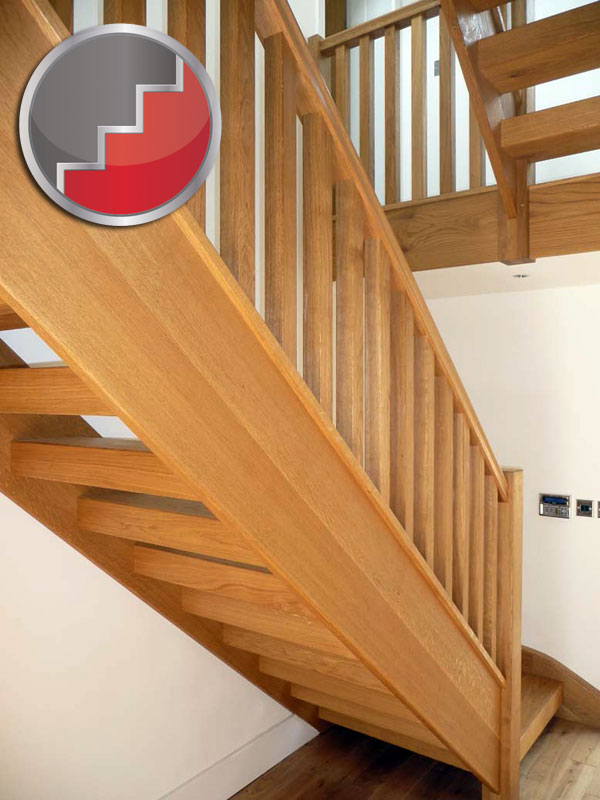 See more on the New Generation of Townsend staircases
On the staircase above you can see the option of hving the apron stairwell lining supplied in oak with your landing balustrade components. Oak Apron Stair well linings
Tihs photo shows you the stair with the toughened glass balustrade panels.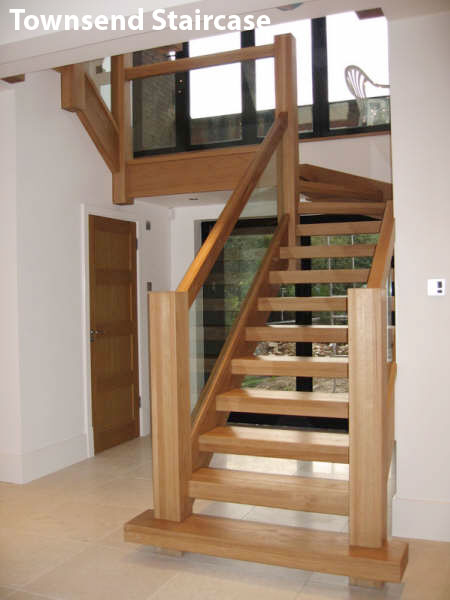 Look in our online E-Brochure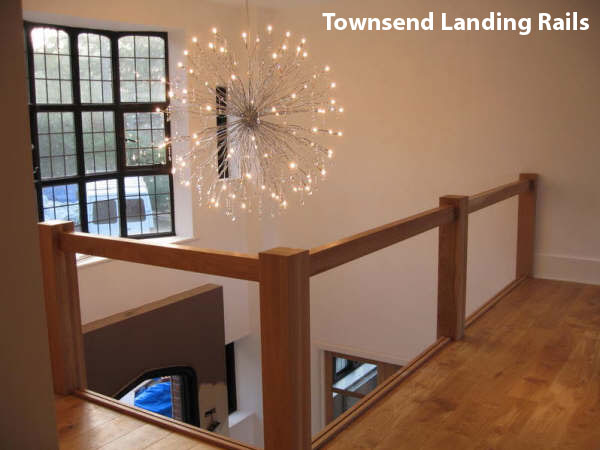 The 150mm Newel posts are one of the details that set this staircase apart from a typical specification oak staircase, the 150mm posts do count for a large part of the increased cost of this staircase over the standard oak openplan staircases.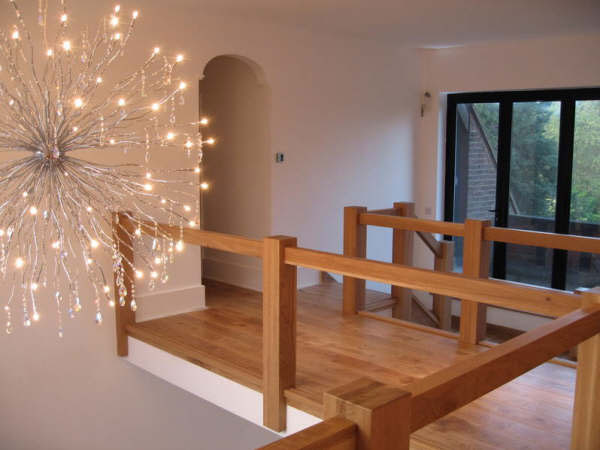 Interesting alternative - Vision Glass balustrade | S-Vision glass Balustrade | Stainless Steel and Glass
More on the Oak Townsend Staircases | Townsend Winder Staircase | Chunky Townsend Stair.
New Oak Townsend with Embedded Glass balustrade panels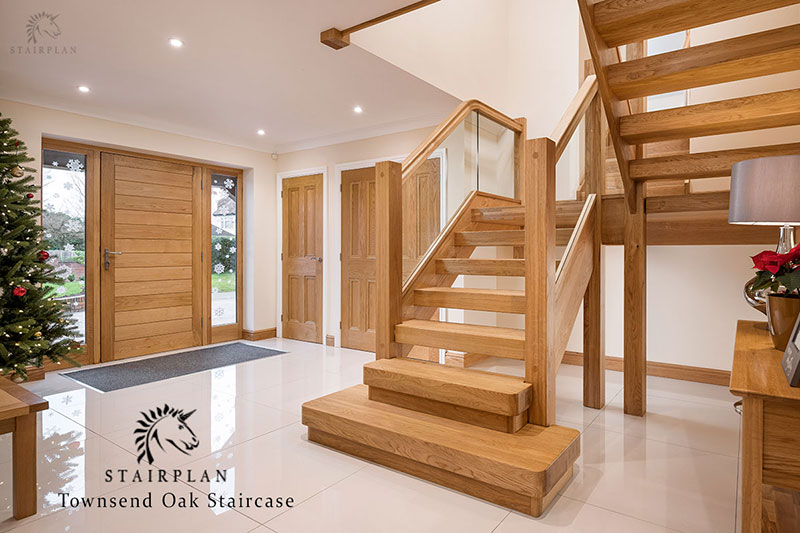 See more on this Oak Townsend staircase
Stairplan - Visit us | Contact Details | Staircase Joinery Workshop

Vision Glass Balustrade - No Brackets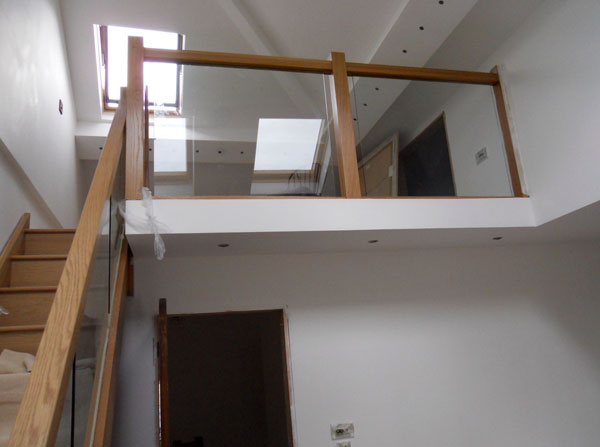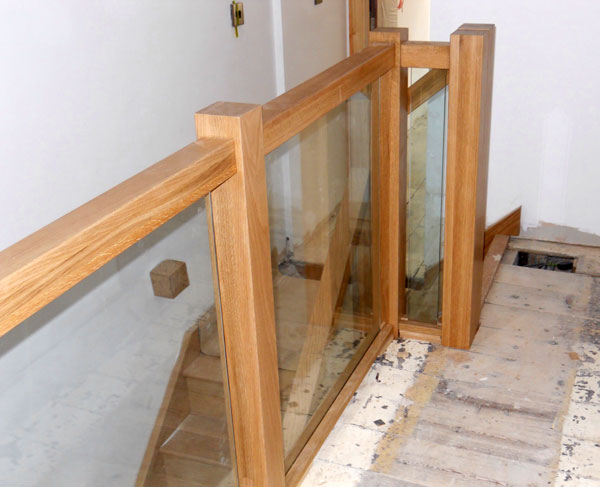 Oak SQ-HR Handrail and Oak SQ-BR Baserail with Square newel posts and Vision Glass Balustrade panels with no Brackets.
Order Glass Balustrade Panels Online