Spiral staircases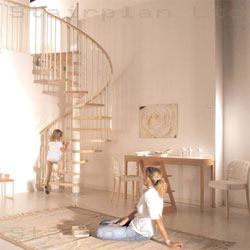 Spiral Staircases
Spiral Staircases *** New offers on Spiral Staircases**
As one of the UK leading staircase manufacturers we have a wide knowledge in the staircase industry and have always had a demand for Spiral staircases. Below we are please to offer Spiral Staircase Kits from the 2 Largest producers of Spiral Staircase Kits in Europe and I believe the World.
Phone our Sales Team for a Quick quotation 01952 608853

Following Research in to the Spiral Staircase market and Spiral staircase Kits we decided to offer the following
Spiral Staircase kits from the two Leading Italian manufacturers.
We have been supplying A range of Spiral Staircases since 2004 , they offer excellent in value and the Modular construction of these staircases offers the highest degree of flexibility.
A Spiral staircase should not be seen to be the ideal solution in most cases a traditional staircase with a double winder layout is the most practical solution and the most robust construction, yes these might not look as pretty as a spiral staircase but they are the better long term solution.
Visit the Showroom.

All the following Spiral Staircase Kits are only suitable for a secondary staircase - Mainly used for loft access.
Civic Spiral Staircases
The Civic Spiral staircase kit is a quality spiral staircase kit with steel treads available in three colours, It is very similar to the Gamia metal spiral staircase kits with differences in the structural construction.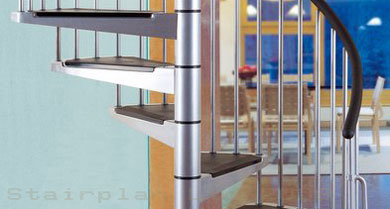 The Civic Spiral staircase is available in 1200mm 1400mm and 1600mm diameters aswell as being available in a selection of colours.
Klan Spiral Staircases
The Klan Spiral staircase is similar to the Gamia Wood Spiral staircase - Key differences are a Thicker tread, a Different spacer method between the treads and a superior handrail construction.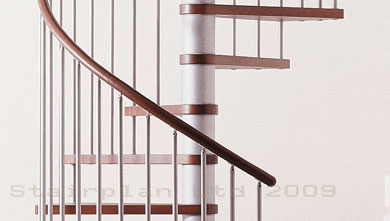 The Klan Spiral staircase is available in 1200mm 1400mm and 1600mm diameters aswell as being available in a selection of colours.
Civic Zink External Spiral staircase Kit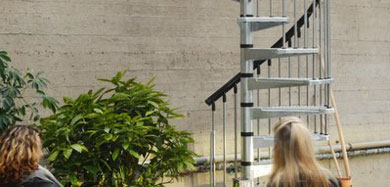 The Civic Zink external spiral staircase is available in 1200mm 1400mm and 1600mm diameters. The Civic Zink spiral stair is our lowest priced external staircase solution.
Kloe Spiral staircase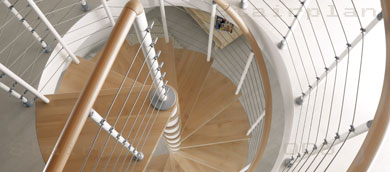 The kloe contemporary spiral staircase with the wired handrail design makes this spiral stair design one of the most attractive on the market - available in 1200mm 1400mm and 1600mm diameters
Other Spiral Staircase manufacturers options below.
Brio - Gamia Metal - Not Currently Offered
The Brio spiral staircase offers distinctive looks with competitive pricing.
Featuring sturdy steel treads this flight offers the style of an Italian designed spiral staircase with market leading technical innovation designed to make installation simple.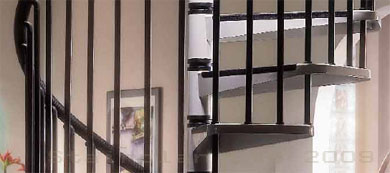 This sturdy staircase offers strong steel balusters and a stylish handrail designed to adapt to any situation. Fully finished in a durable powder coating the flight is designed to
blend in well with all room settings.
Recanto - Gamia Wood - Not Currently Offered
The Recanto offers all of the superb features of the Brio model but introduces timber treads to give this model warmth and simple elegance.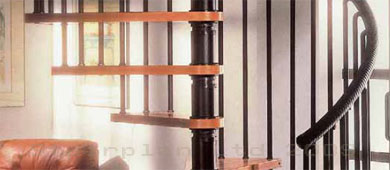 Manufactured from 38mm beech the extremely substantial treads make this flight a strong alternative. The treads are finished in a natural tint and protected with two full coats of polyurethane varnish to ensure their good looks stay that way.
Module Exterior Spiral Staircase - Not Currently Offered
The Module Exterior Spiral staircase Kit with its dark finish is a popular External staircase kit with a modular construction away from the traditional centre pole detail.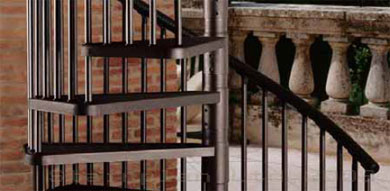 The Module external staircase is available in 1200mm 1400mm and 1600mm diameters
Custom Made Spiral Staircases - Not Currently Offered
We offer Custom made to measure Spiral Staircases in Mild Steel or Stainless Steel we can also incorporate Glass and Timber..


Getting a Price is Easy Simply Choose the Spiral Staircase you Like and Phone us with your Floor to Floor height and the Diameter you are looking for - Phone 01952 608853 Email
Showroom - Spiral staircase Sections on Display
Civic Spiral Staircase
Civic Zink Spiral Staircase
Klan Spiral Staircase
Kloe Spiral Staircase
Kya Space Saver Staircase
Karina Space Saver Staircase
Stairplan Ltd , Hortonwood 1 , Telford , TF1 7GN, 01952 608853 - Monday to Fridays
Winder Staircases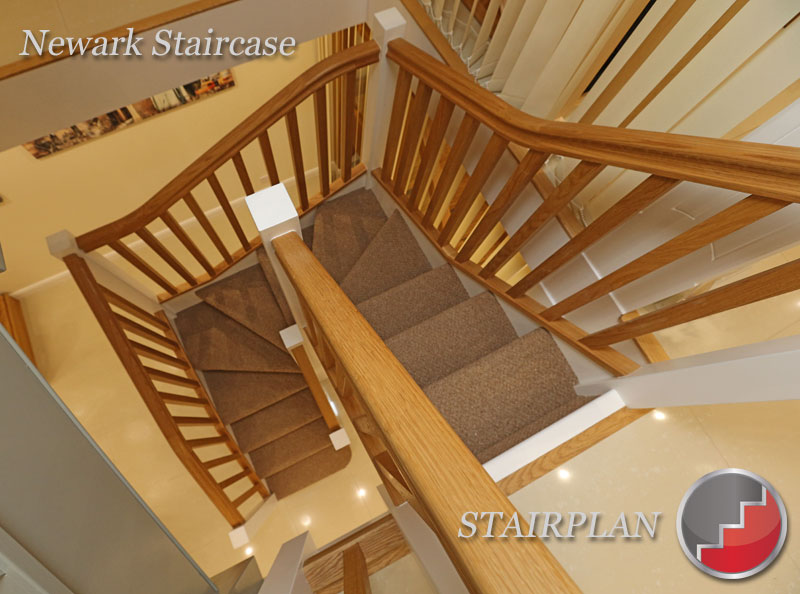 At Stairplan we are specialists in the manufacture of winding wooden staircases. This Newark double winder staircase below offers a far more robust and practical solution over a spiral staircase. We can offer these in a unlimited range of sizes and layouts.
Alternative Space Saving Staircases We have a wide selection of alternating tread staircases available all build to be tough and durable.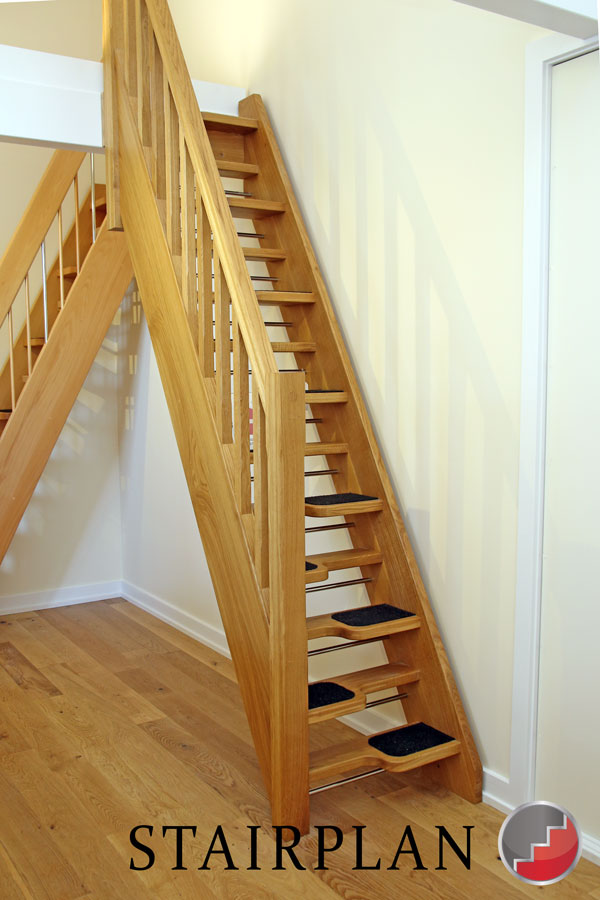 Above the Oak 40 Space Saver Staircase with optional Open risers, Carpet Inserts and Balustrade to the left.