Classic Ash Staircase Parts
At Stairplan as well as our standard specification made to measure staircases we can also offer staircases in a veriety of specifications the staircase below is a Pine Cut String Staircase with Classic Ash Turned and Fluted balustrade parts and a Volute handrail detail at the entry.

The Spindles are the Ash Fluted 41mm Spindle from the Classic Ash range of Stairparts from Richard Burbidge.
Richard Burbidge Ash Stairparts Buy Classic Oak Stair Parts from Allyourstairs.co.uk
A Volute Entry Detail requires a Curtail Entry Step.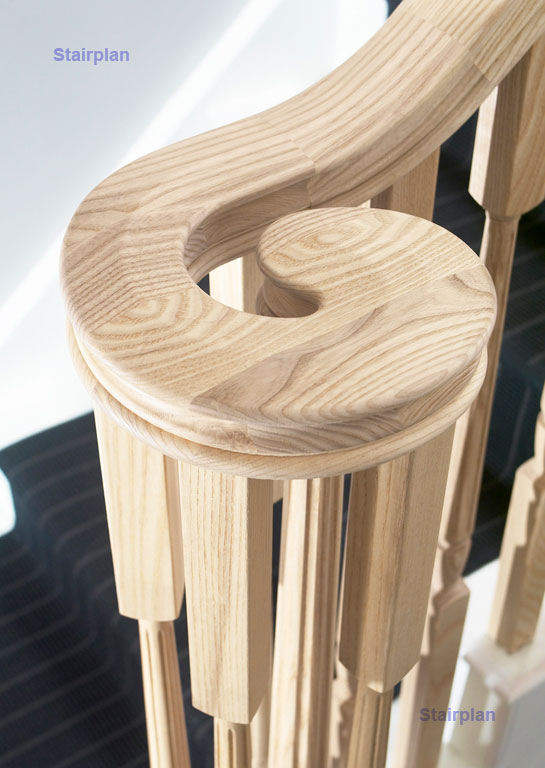 Ash is becoming a popular choice for Staircases and Stair Balustrades Stairplan stock a wide selection of timbers for staircase production this enables us to meet delivery dates where many smaller stair producers fail.
Stairplan has a great following of regular Builders and Tradesmen returning with repeat business, it is hard to explain this to one off customers without a visit to our facilities. Ash Staircases
Related Links
I am afraid the Classic Ash Range of Stair Parts has now been withdrawn by Richard Burbidge - We have other ranges available and these can be reproduced as specials if required.
Stelten Handrail Connection Fixings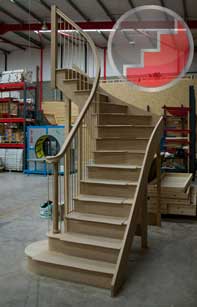 Look at the Ascending volute option on this staircase Click here