Ash Staircases
Ash Open Riser Staircase - European Style Handrail
Looking for a light coloured hardwood staircase then Ash is worth considering we now offer a highly selected grade of Ash and we have a full size staircase in this new grade of Ash in our Design and Development Centre at Hortonwood in Telford.
The Staircase featured on this page is a Ash Openplan winder staircase with Stairplan's European style handrail. We offer a full range of Stair styles in Ash as well as the Openplan style shown below.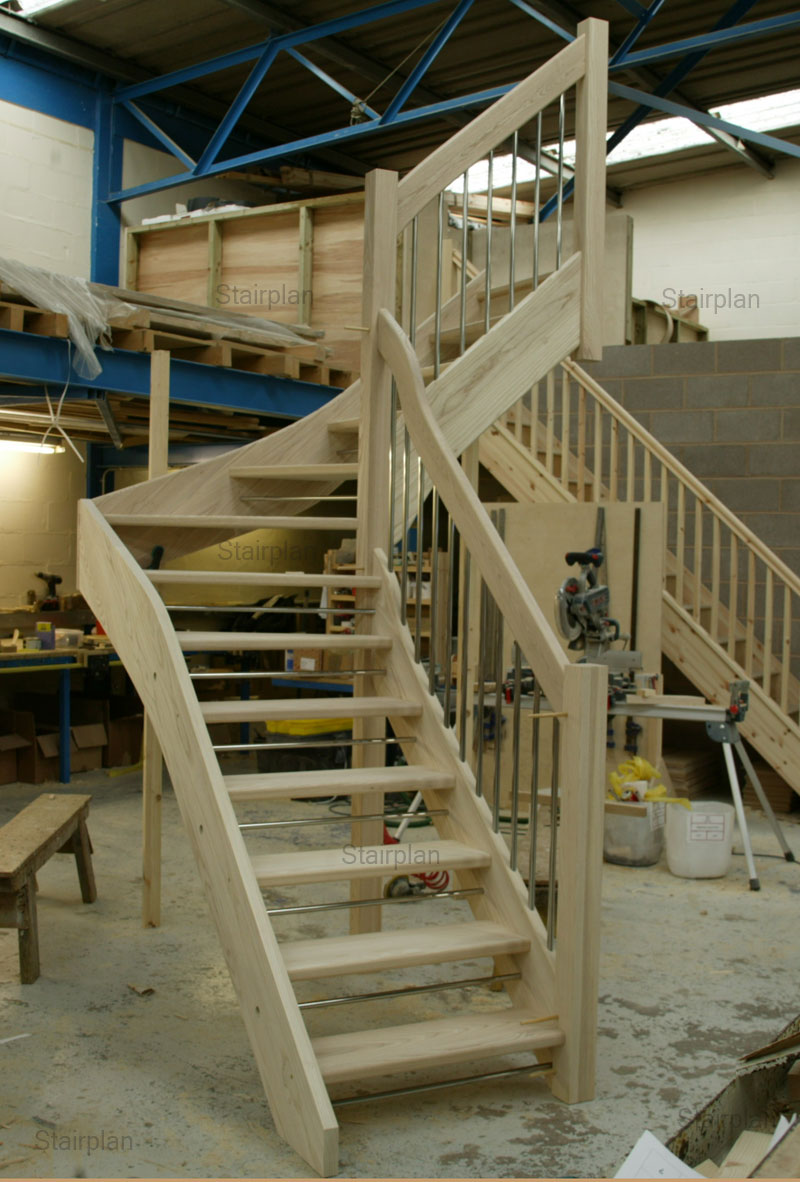 This Staircase is reffered to as a 40mm Openplan Specification with Riser Safety Bars.
The newel posts are 90mm square section Ash the stair strings are 40mm in thickness, the treads are 40mm thiick, the staircase has stainless steel riser safety bars for the purposes of building regulations. The Riser bar ensures you cannot pass a 100mm sphere between the treads.
Phone us on 01952 608853 for a quotation email us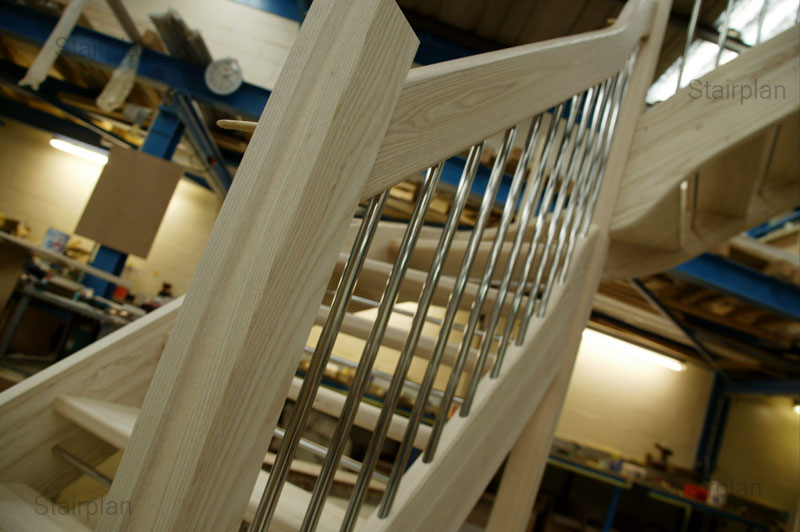 Stairplan produce bespoke staircases using the highest quality materials and machinery available. The Spindles we have on this European styled staircase are stainless steel tube and this is drilled into the string and the handrail at the point of manufacture using the latest in staircase software and 5 Axis CNC technology.
Openplan staircases are best to be manufactured in a hardwood as the treads are left uncovered (99% of the time) the Treads on our European style openplan staircases are 40mm in thickness..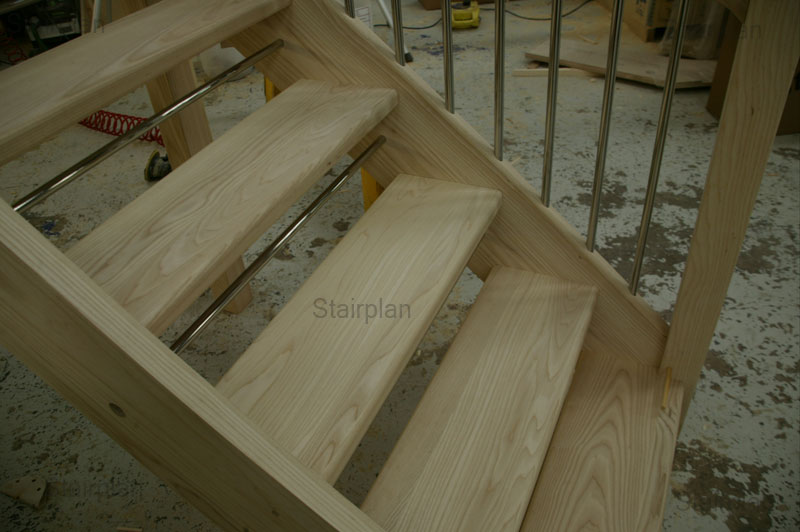 On this image above you can see the typical grain you would get on a ash Hardwood Staircase from Stairplan.
Ash is a lighter alternative to Oak and can offer a similar grain pattern.
Phone us on 01952 608853 and ask how to get a quotation on a Ash Staircase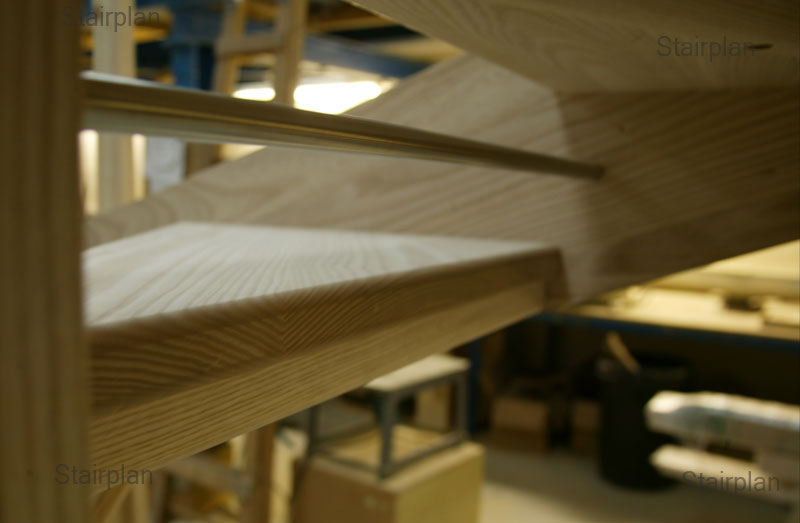 On this image you can see we have added a further timber to the underside of the open winder tread section.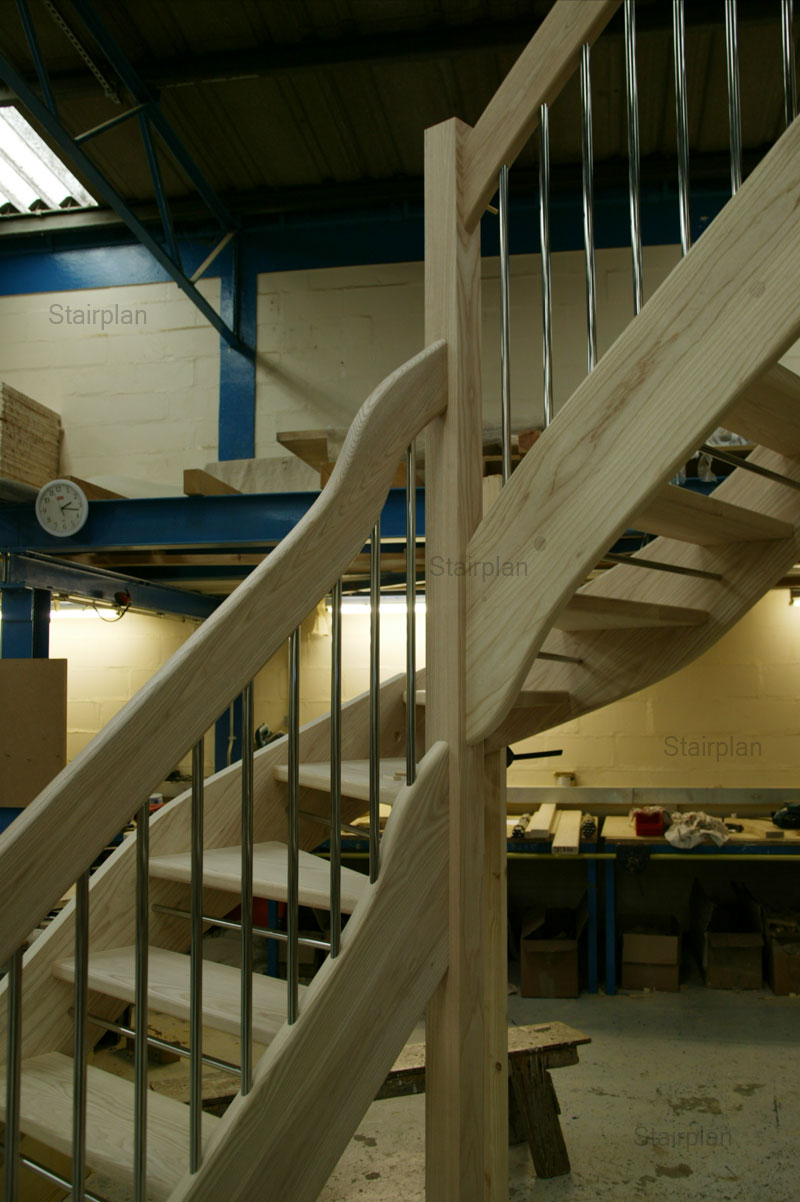 With certain winder staircases it is neccessary for the winder box to extend beyond the newel post the european style handrail can offer a great solution to this with the ability for us to curve the handrail with ease.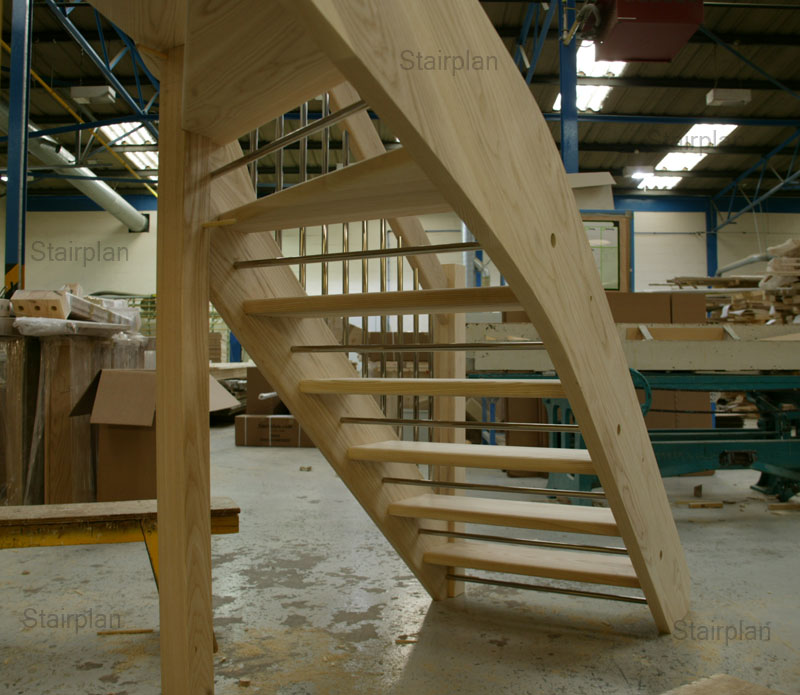 This image shows you the underside of a openplan staircase from Stairplan. Next Stair | Previous Stair
Related Links
Classic Ash Stair Balustrade Components
Trademark Ash Balustrade Components